Inventory Filter
View Airstream RVs for sale in Mississippi from Don Estep
5485 Pepperchase Drive
Southaven, MS 38671
Phone: 901-487-2751

We are the largest RV & Marine Dealer in the Mid South, and have the nation's largest climate controlled indoor showroom. When comparing prices, please remember that this is a family owned and operated business, and we have no hidden fees. We believe the "add on" sales tactic is not good for customer service, and is against our standard of business practices. We take great pride in our award winning customer service, and strive to make your RV shopping/buying experience fun and stress free. We have great financing options and extended terms. We are ready and available to answer any questions you might have. Please feel free to contact us by email or phone. We will be happy to assist you in finding the RV that best suits your needs and your budget.
Don Estep - Southaven, Mississippi
2022 Airstream Flying Cloud 25FB http://www.southavenrv.com/--xInventoryDetail?id=10284995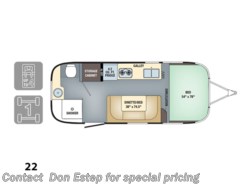 1
0
Don Estep - Southaven, Mississippi
2017 Airstream Sport 22FBThe ultra-towable Airstream Sport is a premium compact travel trailer that sets you free to hitch up and go, without leaving behind the comforts of home.Spacious yet fuel-efficient, the Sport is light enough to tow with an SUV, yet ...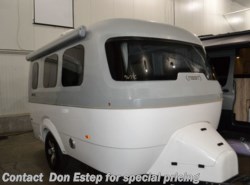 24
0
Don Estep - Southaven, Mississippi
LIKE NEW! NEW! NEW! IF YOU ARE IN THE MARKET DON'T LET THIS ONE GET AWAY! 2019 Airstream Nest by Airstream™ 16U DinetteWhat is Nest™At Airstream, we tend not to run with the herd and are constantly evolving our fleet of products t ...
Don Estep - Southaven, Mississippi
2022 Airstream Basecamp® 20X http://www.southavenrv.com/--xInventoryDetail?id=10547598
Don Estep - Southaven, Mississippi
2022 Airstream Basecamp® 20X http://www.southavenrv.com/--xInventoryDetail?id=10553835
Don Estep - Southaven, Mississippi
2022 Airstream Flying Cloud 30FB Bunk http://www.southavenrv.com/--xInventoryDetail?id=10650070
Don Estep - Southaven, Mississippi
2022 Airstream Flying Cloud 23FB http://www.southavenrv.com/--xInventoryDetail?id=10740585
Don Estep - Southaven, Mississippi
2022 Airstream Caravel 20FB http://www.southavenrv.com/--xInventoryDetail?id=10779302
Don Estep - Southaven, Mississippi
2022 Airstream Basecamp® 20X http://www.southavenrv.com/--xInventoryDetail?id=10811220
Don Estep - Southaven, Mississippi
2022 Airstream Flying Cloud 25FB http://www.southavenrv.com/--xInventoryDetail?id=11114144